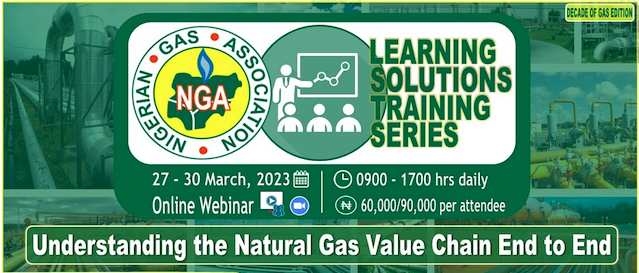 Dear Nigerian Gas Association Stakeholder,
The NGA Learning Solutions is a certificated course/training program with the objective to provide a comprehensive insight into the Nigerian gas sector and enable participants to develop a greater understanding, interest and appreciation of the Nigerian Gas Industry Value Chain.
With the recent declaration of Nigeria's decade of Gas, and with the backdrop of the global changes due to the Energy Transition, the accelerated pace of change in the Nigerian gas industry is expected to reveal and create value and opportunity in equal measure from our vast gas resources.
The Nigerian Gas Association is pleased to invite you to attend a four-day training event titled "Understanding the Natural Gas Value Chain End to End". This course will provide delegates the opportunity to examine the regulatory, commercial and technical aspects of the natural gas value chain in Nigeria and beyond.
The event will to hold over four days from 27 – 30 March 2023. It will consist of several in-depth modules delivered by industry subject matter experts, with attendee interaction and question & answer segments, lasting from 0900 – 1700 hrs each day.
The event will be recorded for attendees who are unable to attend live to watch at their convenience. The course fee is ₦60,000 per attendee (NGA Associate Members) and ₦90,000 per attendee (Non-NGA Members).